With the wet season finally starting to loosen its grip on Australia, now is the perfect time to renovate or spruce up your garden and get looking perfect without having to worry about delays.
A lot of effort goes into creating an amazing landscape design, water features, gardens, and more, but one of the most important things is gravel, gravel can be used to transform walkways, gardens, driveways, and planters into amazing set piece features that really stand out and give your project a much-needed boost.
But not all gravel is created equally, and there are many different types of gravel and pebbles that differ in colour and sizing that are needed for different projects, today we're going to have a quick look at some of the most common gravels that are available, what they're for and when you should consider using them in your next project, so let's take a look.
Decorative gravel and pebbles are useful for when you need a hard covering on your project, but what gravel and pebbles are needed, and for what project?
When it comes to gardens, gravel is not only a decorative item but also has some mechanical benefits such as weed suppression, improves soil structure much the same way that mulch does, and helps to protect against extreme temperatures and moisture.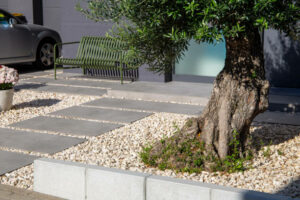 Due to their weight and distribution, most gravel and pebbles don't usually get blown around by the wind and extreme weather, this makes them incredibly versatile for installation and maintenance when it comes to the extreme weather situations we often face in Australia and means that once they're laid, more times than not they'll stay in that spot.
Pebbles are generally used for their decorative features such as snow white pebbles, white quartz, and river pebbles and are great as a finishing touch to a stepping stone or for when you want a feature to really standout amongst the others.
However there is a difference between gravels and their uses, one size doesn't fit all in the world of gravel and you will need to do some research on what gravel you are going to want to use for your project, for example when creating a driveway with gravel, crushed stone and quarry process also known as "crusher run" is the best gravel to use because of its mixture and versatility.
These gravels are used to support the weight from vehicles without moving too much or requiring much maintenance as opposed to pea gravel which, while it looks much better, tends to spread and disperse under strain and will need borders erected around it to keep it in place and stable for your driveway.
While it may seem like a bit of a headache choosing the right gravel for the right job, thankfully our experts at Landscape City have numerous years of experience both in product and landscaping supplies as well as hands-on experience and are always standing by to give you the best quality customer service you can find.
We stock and supply various types of different gravels, mulches, soils, and more at our depot and can help to alleviate the stress of finding the perfect product for your project no matter how big or small, and offer same-day delivery where applicable for products delivered.
If you would like to know more about the products that we supply and for landscaping ideas such as installing a gravel driveway, fire pit or laying down a layer of gravel for ground cover, decorative pebbles and river rocks can really take your project up a notch. If you would like to know more about our products that are suitable for these projects, feel free to visit our webpage and browse some of our stock, alternatively, you can send us an enquiry or call us on 07 5499 0299 for advice and quotes on your next landscaping project or design.