Are you thinking that perhaps it's time to spruce up your yard after this extreme weather we've had recently been having? Or perhaps you need quality supplies for your work and next landscaping project, if you reside in southeast Queensland and are looking for these supplies or are unsure of where to start, we're pleased to say, we're here to help, at Landscape City, we've spent numerous years in the industry refining the best possible products that we happily supply to the southeast Queensland region.
First, you will want to take stock of what you're hoping to achieve with your project, are you simply touching up an already established garden? Or are you undertaking a project to create a driveway or pathways, having an understanding of what you're trying to achieve will make sure that you are getting the right products that you need.
For example, you wouldn't want to buy gravel such as pea gravel to spread amongst your pathways if you're not going to reinforce it with a concrete border, this can lead to your gravel spreading everywhere and out of the desired pathways, it can also lead to weeds and twigs becoming embedded in the pathways making them hard to maintain.
Just having a basic understanding of your project can lead to a successful outcome, this is true whether you're doing a small project such as creating a garden, to industrial-scale landscaping projects such as installing hedgerows or entire footpaths, but if you're unsure of where to start, thankfully we are here to help you get the best quality products available and offer some insight.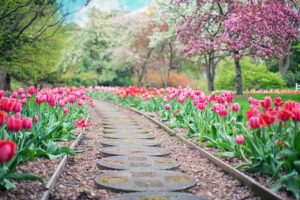 Whether you're trying to tackle a small project or going for an industrial-scale project, we're available to help you get what you need for your next project, we stock and supply nearly everything you will need when it comes to landscaping from pebbles and gravel, soil, mulch, and grass, to retaining walls and concrete, we have you covered with the premium products you require.
Our expert and friendly customer service team offer delivery services if you can't come to us and happily deliver all over the Caboolture area and can same-day delivery in most parts providing that the products you need are currently in stock.
With our team of experienced landscaping contractors and landscape architects, we are highly recommending Landscape City for any sort of landscaping construction or design services. Our garden beds, outdoor spaces, and professional landscaping projects come with a guarantee of great job completion, on time delivery and within budget. We provide top quality service 6 days a week to ensure you get the best landscape design and gardening services. We enjoy transforming your vision into reality with our team's expertise and passion for creating beautiful outdoor spaces. Get in touch with us today to start planning your project!
If you would like to fully view our high-quality landscaping supplies, or you need some advice please don't hesitate to contact us via e-mail, phone or send us an enquiry at https://landscapecity.com.au/contact-us/ for all your landscaping needs today.